A Rocha supports Oceania Creation Care Consultation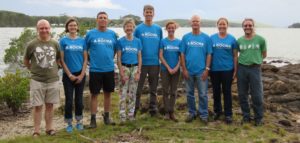 A Rocha Australia directors attended the Lausanne/World Evangelical Alliance Creation Care Consultation – Oceania, held at Tahlee, NSW from 23-27 April 2018.
This is part of a global campaign to strengthen evangelical creation care movements. This regional consultation seeks to catalyse a movement of Christians who will develop new and strengthen existing creation care partnerships and initiatives throughout the Oceanic region.
There were around 70 delegates from a range of countries (Australia, Aotearoa/New Zealand, Solomon Islands, Tuvalu, Papua New Guinea, Fiji, Samoa, Tonga, United States and UK), ethnicities, denominations and backgrounds (theologians, scientists and educators).
It was a pleasure to help support this event and to spend time with members of our extended A Rocha family including Dave Bookless (UK) and Andrew Shepherd (Aotearoa/NZ).
Click here to view a slideshow of the Consultation.