Cassinia collaboration extends into NSW
A Rocha Australia is collaborating with Cassinia Environmental by assisting with nature conservation activities on private land. You can read more about this collaboration here.
Cassinia has invited A Rocha to become involved with the conservation management of a property in Alleena, near West Wyalong in NSW. 'Avoca' is a  1700ha property which includes areas of remnant woodland and 848ha of former grazing and cropping land revegetated by direct seeding in 2013.
A Rocha will be working with Cassinia to undertake field surveys to identify vegetation and habitats in order to collect baseline data for the property. Bird surveys will be repeated at regular intervals to both monitor changes to biodiversity and to provide information to guide future property management. The project will be managed by Cassinia, with A Rocha Australia participating as a project partner.
If you are interested in learning more about this site and how you can assist, email director Greg Stone: [email protected]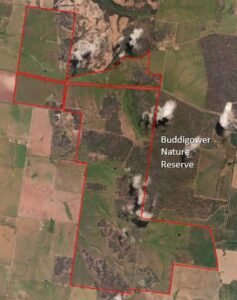 Avoca' in Alleena is near to Buddigower Nature Reserve, created in 1963 and covering an area of 327ha. Grey box, mugga iron bark and white cypress are found growing on lower slopes. Areas of blue mallee, bull mallee, green mallee and congoo mallee are found on low gravelly ridges. The reserve provides typical habitat for the endangered malleefowl, shy heathwren and southern scrub robin.