Christ, the Cross and Creation Care Conference – Sydney
Our national conference for 2019 was held in Burwood, Sydney on 22 June.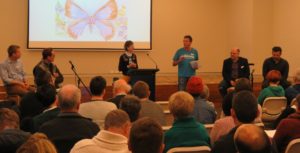 Please click here to download the program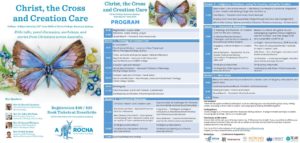 As the talks are edited we will make them available here. Over the coming months we will also compile a Proceedings legacy document.
Introduction – Alaine Anderson, Moree and Dr Stuart Blanch, president of A Rocha Australia
Talk One – Is God Green? Rev Dr Lionel Windsor – Lecturer in New Testament, Moore Theological College, Sydney
Talk Two – Trees, orchards and sacred space: biblical reflections – Rev Dr Kit Barker – Lecturer in Old Testament, Sydney Missionary and Bible College
Talk Three – Creation care and mission – Rev Dr Darrell Jackson – Associate Professor of Missiology, Morling College, Sydney
Talk Four – Creation care and Christian moral vision – Rev Dr John McClean – Vice Principal, Lecturer in Systematic Theology, Christ College, Sydney
Q&A Panel – Q&A discussion panel with Session 1 presenters
Final Session – Wrap up and prayer
Please note these are low resolution versions. For access to higher resolution video files please email requests to [email protected]
We thank Global Recordings Network Australia for assistance with the recording and editing of these videos.