Christ, the Cross and Creation Care Conference – Sydney
We are very excited to announce our national conference for 2019
Save the Date details:
WHEN: 8.30am to 3.30pm, Saturday 22 June 2019
WHERE: Christ College, Burwood, Sydney
Shortly we will be circulating a flyer with more details including speakers and Eventbrite registration. Links will be available from this webpage. For those not able to get to Sydney, we are planning to video the talks and have them available online. We will also compile Proceedings as a legacy document.
In the meantime please save the date, and check out this sneak peak at the beautiful artwork provided by artist and illustrator Lara Cooper to promote our event. Thanks so much Lara!!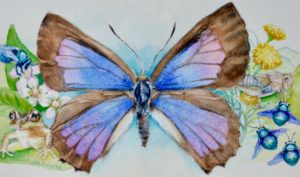 Can you identify these endangered species in her painting?:
Button Wrinklewort (Rutidosis leptorrhynchoides), Peach Myrtle (Uromyrtus australis), Common Mist Frog (Litoria rheocola), Schdyers Grasshopper (Schayera baiulus), Green Carpenter Bees (Xylocopa lestis) and Bulloak Jewel Butterfly (Hypochrysops piceata).
.