Global plastic cleanup in September
Join us in the International Coastal Cleanup in September!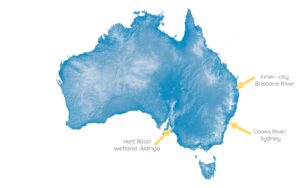 Caring for God's world through reducing plastic pollution
The global A Rocha family works throughout the year on the issue of plastic pollution, but are focusing efforts to join in the International Coastal Cleanup events held the third weekend of September each year. This year we will need to run our cleanups differently, but we still encourage your involvement if you are able to do so.
Official events have A Rocha Australia insurance cover following obtaining Council approval, filling out risk assessments and recording event details. If you would like to do your own lowkey cleanup during September and would like insurance coverage, please contact us. We've seen lots of rubbish along rivers and creeks, so these may be a good place to focus on this year.
Here are some details of 2020 Aussie events:
Inner-city Brisbane River, QLD
This event has been cancelled.
Hart Rd wetland, Aldinga, SA
When: 2pm Saturday 19 Sept
Other details: Please wear gumboots, sturdy waterproof gloves and bring a  rubbish bag. Bring your own afternoon tea to enjoy at the Aldinga EcoArts village.
Contact South Australian director Sally Shaw for more details about this cleanup and to register.
Cooks River, Sydney, NSW
When: 10am Saturday 19 Sept
Where: meet near the playground at Gough Whitlam Park
Other details: we'll collect rubbish for an hour and then (if Covid-19 restrictions allow), we'll have a physically distanced picnic post clean up. Feel free to bring some food along.
Contact New South Wales director
Issy Lyons
for more details about this cleanup and to register.