Kingdom Gardeners evening – Melbourne
'Kingdom Gardeners – Faith, the Environment and Mission' evening with Interserve, Glen Waverley Victoria, 13 June 2019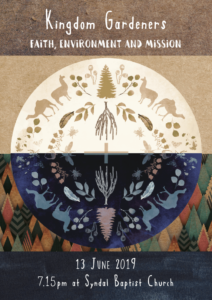 Mission and caring for the environment can go hand in hand – the focus of this recent conference with Interserve.
Jonathan Cornford – Keynote Speaker: Jonathan and his wife Kim co-founded Manna Gum as the culmination of ten years working and campaigning on development issues in Laos and Cambodia, working with the homeless and drug-dependent in Melbourne, leading Bible studies and exploring Christian expressions of responsible living in the inner city. Jonathan has a PhD in Political Economy/International Development. Manna Gum seeks to communicate about the implications of the Gospel for the way we live. mannagum.org.au
Gillian Asquith – Zero Waste: A world without waste – is this even possible? Gillian, a MST Faculty Member and Lecturer, shared about her zero waste journey 
"Thank you everyone who attended our 'Kingdom Gardeners – Faith, the Environment and Mission' evening. There was a great vibe and energy, and lots to think about and apply. One of my take-always was from Gillian's interview on zero-waste – to make one change, and when that becomes 'easy' tackle another. Oh, and not to run the shower too hot if washing your hair with an egg! – A Rocha director Julia
Click here to see a Facebook video about how to make an origami waste bin liner.