Kingdom Gardeners evening – Melbourne
'Kingdom Gardeners – Faith, the Environment and Mission' evening with Interserve, Glen Waverley Victoria, 13 June 2019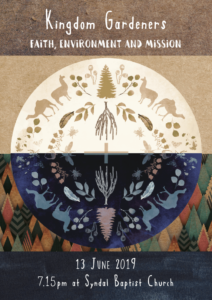 Mission and caring for the environment can go hand in hand – the focus of this recent conference with Interserve.
We thank Interserve for providing these videos from this event:
Jonathan Cornford – Keynote Speaker: Jonathan and his wife Kim co-founded Manna Gum as the culmination of ten years working and campaigning on development issues in Laos and Cambodia, working with the homeless and drug-dependent in Melbourne, leading Bible studies and exploring Christian expressions of responsible living in the inner city. Jonathan has a PhD in Political Economy/International Development. Manna Gum seeks to communicate about the implications of the Gospel for the way we live. mannagum.org.au
Jonathan spoke to the topic of Faith, Environment and Mission exploring how we have often made the Gospel too narrow and how the good news of Jesus impacts all our life.
 Gillian Asquith –Zero Waste: Gillian, is a lecturer at Melbourne School of Theology and is passionate about the world God has created. After watching a documentary about plastic pollution she has been on a heart-warming journey to live zero waste! shared about her zero waste journey 
Gillian spoke about A world without waste – is this even possible? Listen to her share about some simple, some challenging and some slightly humorous changes (involving an egg) she's made in her everyday life as she seeks to integrate her Christian faith with her heart for the environment and mission.
Christine Gobius: Christine is the National Director for Interserve Australia. She is also qualified as a Vet.
Hear Christine's inspiring talk sharing how Interserve has been involved in caring for God's creation through mission for over a hundred years.
"Thank you everyone who attended our 'Kingdom Gardeners – Faith, the Environment and Mission' evening. There was a great vibe and energy, and lots to think about and apply. One of my take-always was from Gillian's interview on zero-waste – to make one change, and when that becomes 'easy' tackle another. Oh, and not to run the shower too hot if washing your hair with an egg! – A Rocha director Julia
Click here to see a Facebook video about how to make an origami waste bin liner.