Melbourne October 2017 Conference: the Environment and the Gospel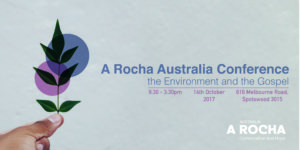 Is caring for the environment really an issue for Christians? Is it something my Church should care about? Does God care about the environment? Does God care if I care about it?
A Rocha Australia invites you to join us in discussing these questions and learning practical applications of loving God by loving his world.
Come and hear why Christians should care about the Environment.
Learn
New insights, ideas and skills about how you can care for God's world.
See
What A Rocha is doing for God's creation in Australia and across the world.
Hear
Stories of how a range of people – from climate scientists, to ecological researchers, to missionaries, to inner city hipsters – have responded to the gospel by caring for our planet.
Click on this link to get more information and purchase tickets
We hope to see you there!