Nov 2 – Capernwray Focus
Capernwray Focus Day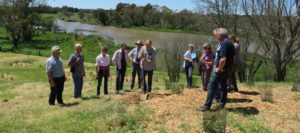 For the last two years Capernwray Torchbearers Australia has run an environmental project with A Rocha Australia at their Bible school and conference centre in the Southern Highlands of NSW. Capernwray hosted a "Christians, Conservation and Creation Care" day:
Saturday 2nd November 2019
9:30am – 3:00pm
596 Moss Vale Road, Burradoo NSW
The natural environment is rarely out of the news in Australia these days. If it's not the potential extinction of the Koala and other native species, it's the mounting piles of waste we're producing, the loss of old growth forests, the pollution of our waterways, or the ongoing invasion of pest plants and animals. At this rate, the future for much of our country's natural environment appears bleak. It's a situation that concerns many Australians – but should Christians care? Christians claim to be God's people and we declare that this is God's earth, so how should we respond to environmental issues?
In addition to a session on the biblical basis for Creation care, A Rocha Australia members and friends will be giving presentations and leading workshops on subjects such as environmental advocacy, regenerative agriculture, biodiversity conservation, and sustainable living. There will also be a tour of the property, conservation project and adjacent Nature Reserve.
Session 1: Caring for Creation: what does the bible say?
Session 2: Caring for Creation: what is being done?
Session 3: Caring for Creation: what can we do?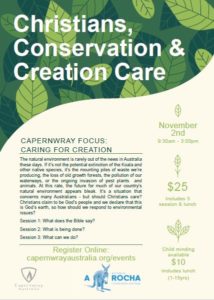 Further information about this conference will be posted on this webpage shortly.