Sept 20-22-Global plastic cleanup
27th July 2019
Join us in the International Coastal Cleanup in September!
The A Rocha family caring for God's world through reducing plastic pollution
The global A Rocha family works throughout the year on the issue of plastic pollution, but are focusing efforts to join in the International Coastal Cleanup events held the third weekend of September each year. In 2018 eight countries in the A Rocha family held clean up events or participate in events organized by others locally – emphasizing our commitment to partnerships. A Rocha in Australia held a number of Coastal Cleanup events in 2018.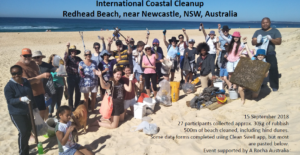 Australia's coastline stretches almost 50,000 kilometres, more than any other country in the world, so we should be leading the way with events! Would you like to host one? Use our website contact form to register your interest.
For more information about what is happening internationally, visit the A Rocha International webpage.