Turning 5 in December – Time to Celebrate!
A Rocha Australia is turning five!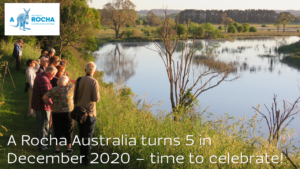 We are turning five! It doesn't feel like it has been that long since we became an incorporated body and an Australian charity, but we would certainly like to celebrate. We would like to give thanks to God for graciously guiding the formation and development of A Rocha Australia over the past five years and celebrate what has been achieved.
Stay tuned for what we have planned….and keen to hear what you think the next 5 years could look like…