Julia Jardine
(VIC) National Director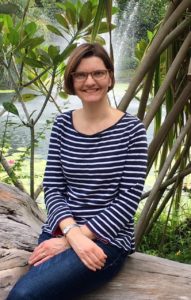 Julia has over twenty years experience of urban planning, which draws together her care for people and the environment, through the design and delivery of healthy, high-quality and sustainable urban places and communities.
She read Geography as an undergraduate and has an MSc in Urban Planning, specializing in environmental impact assessment. As Special Projects Director in a planning and architectural consultancy she was also responsible for Practice Development, including staff training and support.
Julia is actively involved in church life, and has enjoyed junior church leadership, summer residential camps for 10-14 year olds, international student ministry and one-to-one mentoring.
She has volunteered with a number of A Rocha organizations around the world, initially at Cruzinha, Portugal in 1992, and subsequently in Kenya and Uganda. Julia moved to Melbourne from the UK in April 2017 following her marriage to an Australian in March.
Julia became a member of the board of directors of A Rocha Australia in early 2018.