About this project
In 2020, the steadily growing cluster of A Rocha Australia members in the Toowoomba area, southern Queensland, started a collaborative venture with Friends of the Escarpment Parks (FEP), a local community organisation. A Rocha volunteers support FEP-supervised activities to control weeds at two bushland parks managed by Toowoomba Regional Council, at the edge of the city.
The first project is at Nielsen Park, a five hectare remnant of blackbutt-dominated eucalypt forest now mapped as an endangered regional ecosystem, in Toowoomba's outer suburbs. Monthly weeding at the park contributes to a long-running FEP program that has seen invasive plants such as lantana and asparagus fern removed, allowing indigenous understorey species to establish. Each month, standardized bird surveys using the national BirdLife Australia methodology are being conducted by A Rocha in 2.0 hectare plots. So far, this has revealed an over-abundance of aggressive bird species, typical of the urban location, although several small bird species persist in the now generous cover of shrubs. Bowerbirds maintain several territories and owls and frogmouths visit the park.
Here is a report on the first year (2020) of A Rocha Australia monthly bird surveys at Nielsen Park, Toowoomba.
More recently, A Rocha started supporting removal of cat's claw creeper at Redwood Park, a larger council reserve on Toowoomba's eastern escarpment immediately below the watershed of the Great Dividing Range. This creeper is one of several invasive plants that have smothered trees and shrubs in semi-evergreen vine thicket ('softwood scrub' or 'dry rainforest'), destroying the canopy and thereby ruining this endangered ecosystem. Threatened species including Black-breasted Button-quail and Powerful Owl as well as fruit-bats and orchids that occur in vine-thicket, are at risk of habitat loss. Creeper control is slow and labourious work but highly rewarding as mature trees are cut free and seedlings are discovered under masses of creeper, taken off the ground layer.
A Rocha hopes that its demonstrations of direct intervention in these community projects will encourage greater engagement of Toowoomba churches in creation care.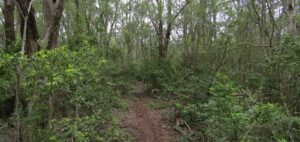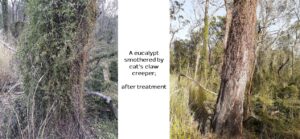 A monitoring camera has captured nocturnal residents including Black Wallaby and Short-eared Possum, and by day an Australian Brush-turkey, a large monitor lizard as well as Grey Shrike-thrush, Eastern Whipbird, Double-barred Finch, White-browed Scrubwren and Red-browed Finch. Although these creatures are all common in the semi-evergreen vine-thicket ('dry rainforest') of Redwood Park, we hope that removing cat's claw creeper will render the forest floor more suitable for rarer species such as button-quails, pittas and emerald doves.